Demand for Equiopaths is constantly increasing
April 2nd, 2022 | By: Joakim Krassman
Jennifer Sjöberg chose to become an Equiopath in order to be able to treat her horses herself and at the same time gain a better understanding of how their bodies are affected by riding and training. After realizing the great benefit of wellness for the horses and how much fun it was to be able to help them feel and perform better, she also started taking clients, and that's the way it is.
35-year-old Jennifer Sjöberg is a dressage rider and Equiopath who runs the company EquiHealth Stockholm. The concept is based on wellness and rehabilitation of horses in all breeds and disciplines. She currently works on an itinerant basis within Stockholm, but also receives horses at her farm for longer/more frequent treatment sessions.
Basically, it all started when Jennifer and her family moved to a horse farm on Ekerö in Stockholm. On the farm they had their own horses and boarding business. Like most horse owners, she periodically took the help of an equine therapist to check the status of her horses.
"Horses, just like people who train and compete, need health care in the form of massage, stretching and other manual therapies in order to continue to perform".
One of her horses in particular, a homebred who had been a bit unlucky since he was born, needed frequent treatments to keep him in a rideable condition.
"Of course, I also let the vets go through him, but still, I always felt like I was one step behind, which could result in unwanted interruptions in training. I realised that if I was going to get anything out of this horse, I had to be able to check how his body was feeling."
Jennifer has always stayed close to horses. Before becoming an Equiopat, she worked as a riding instructor for a while and has, together with her family, run her own farm with stabling and gradually developed a holistic concept for horse-owning dressage riders. While Jennifer was running her stable business, she found UPH (Training Centre for Professional Horse, Dog and Human Care, now UPH Academy) and applied for their Equiopath training. Thanks to the fact that it was largely distance learning, it was possible to combine it with her work at home and in June 2018 she graduated and was certified. She then went on to further training through the same school and is now also certified in some of the techniques used by osteopaths.
"I found it super fun and I dare say I had the aptitude to work as an Equiopath right from the start. Since then, the business has grown steadily."
In the beginning, Jennifer's customers were very local, but demand grew like wildfire. "A satisfied customer in one stable talks to a friend in another stable, etc." At the moment she has many horses in training/rehab at home and only has time for 2-3 treatments out at the client's place per day on average. "If I have fewer assignments at home, I go out to more clients and treat instead. It feels good to have more legs to stand on, it's needed in this business."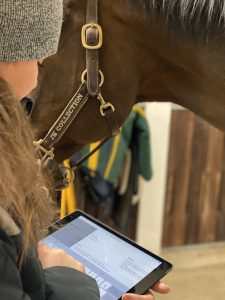 Jennifer says that she could have made a full-time living as an equiopath, thanks to the broad training, and as insurance companies are beginning to understand the importance of equitherapy. Many insurance companies cover rehab to some extent even in their basic insurance policies nowadays, which makes it easier to work with vets.
"It's really great when we Equiopaths can work in teams with veterinarians because we have expertise in different areas and complement each other very well."
Jennifer is a user of the Hippocrates system Equitreatment -
"I've been using the system since 2018 in the start-up phase when I started taking on clients. It's super easy with electronic records and the ability to run the invoicing together makes it very labour saving. It's also easy to share the records via email - appreciated by both horse owners and vets!"
"It is good to have the booking function that sends a booking confirmation to the customer via mail and a reminder the day before the visit. It has saved me a lot of time and there are no gaps in the schedule due to forgotten appointments."
Jennifer helps us sort out what it means to be an Equiopath;
Equiopat is a certification obtained after a successful two-year full-time training. An Equiopath specializes in equine wellness and rehabilitation and has an in-depth knowledge of equine biomechanics. That is, knowledge and understanding of the relationship between all the muscles and other structures of the body, how the anatomy interacts in the horse's musculoskeletal system. An Equiopath always works in a cause-oriented way, in other words trying to find the root problem and not just treating symptoms that can often be secondary.
"As a horse owner, it is very important that you find out what training the therapist you intend to hire has. The scope and content of the training can differ greatly, some courses only last a few weekends, for example."