Daily horse party at Runsten Equestrian
October 15th, 2021 | Village: Joakim Krassman
Runsten Equestrian was founded in 2004. It was the perfect location close to Stockholm City, sandy land and many hectares to develop, which decided the location of the first shovel.
The original idea was primarily to build a riding facility at the forefront, including a residential area close to the riding facility.
Both for horse enthusiasts and to attract people who want to live close to nature.
Today Runsten Equestrian is an Equestrian Facility with nearly 100 stabled horses in the disciplines of jumping, dressage and fielding.
Runsten Village is home to 200 fantastic houses in a rural setting. Daily there is also service in the form of a shuttle bus between Tullinge train station and the facility, so that even those who do not have a driver's license or a car can get out to the facility and the residential area.
How do you describe Runsten Equestrian's horse business?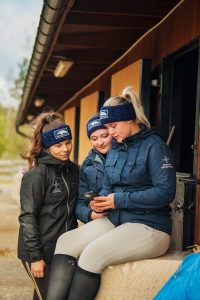 Runsten Equestrian is a complete facility with a riding hall, four fiber sand arenas, two terrain arenas and two grass arenas. Today it is a lovely mix of big horses as well as ponies at the facility in all disciplines. The good and fullservice is the same 365 days per year, this means that you as a horse owner at Runsten Equestrian get more time to spend in the saddle and with your horse.
In good cooperation with the non-profit Association Runsten Equestrians, competitions are arranged all year round. Since equestrian sport is an individual sport, the association is especially important for the feeling of a good community and cohesion.
At the facility, Mälarens Hästklinik hires itself with whom there is close cooperation. This is both a security and convenience for both horse owners and staff on the Equestrian Center.
An important part of the well-functioning layout is that reputable trainers come to the facility regularly.
Helena Persson, Svante Johansson, Per Dahlgren, Ann Liwing. When it comes to dressage training, Birgitta Gudmundsäter, Berit Norberg and Per Duvefelt come. Rolf-Göran Bengtsson, Pether Markne and Henrik von Eckermann are some of the guest-playing coaches at the facility.
In 2020 Runsten Equestrian became a user of the Hippocrates proStable system.
"For us in the staff, Hippocrates proStable is a great asset in  the daily work. We can easily see orders for services such as mocking, horse-to-walker, veterinary assistance, etc. With the help of the system, we always have updated information from customers regarding blanket info, feed state etc. Customers also appreciate receiving a text message from proStable after we perform the ordered service, and that the service is automatically added to the monthly invoice. This creates clarity for us in the staff as well as for our customers", says the staff at Runsten Equestrian.