Christie Goddard, the farrier obsessed with horseshoes.
November 1st, 2021 | Village: Joakim Krassman
It all started at home on the farm in England where Christie grew up. When the farrier came for his parents horses (50-60 horses) and Christie with a obsession on horse shoeing used to hang out with the farrier.
When still in school he was competing in showjumping and also worked at school holidays at a shooting school for clay pidgin and at an retirement home making tea and sandwiches.
After he finished school he went to Belgium as a full-time rider and competed and trained jumping horses. Also here he enjoyed spending a lot of time with the farriers and watched, listened and developed his skills in the shoes of the horses.
He became an educated farrier in England when he was 22 years old.
"Christie laughs and says that even now when he is on a competition with his own horses, all he looks at is the shoes of all the horses and even miss to say hallo to people he meets."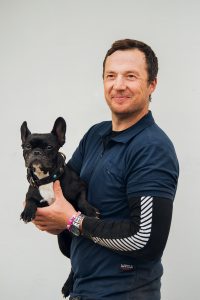 In 2004 he moved to Sweden, the first memory was -21 degrees and one meter of snow. But nevertheless he stayed and the feeling was that Sweden and the people were a very greeting country for him when working with horses. He started from zero and mostly worked in the Stockholm area and in Gothenburg. He shoed horses and also worked as a jumping trainer with private lessons and groups for both children and adults. Something he really enjoyed at the time.
The farrier work became more with more professional stables all over Sweden and the focus shifted to working 100% as a farrier and riding his own horses.
Have the horse-owners changed regarding shoeing their horses from when you started as a farrier as of today?
Yes, when I started the horse owners were happy as long as the shoes stayed on, today they are more aware of the impact of the shoes for the horse and appreciate when they see the results it makes.
Do have any goals with your business?
Yes to keep working as a team with horse owners and follow the results.
One goal is to have a medal in all the Championchip with horses that I shoe. Until today I have one silver World Cup medal and one silver in the European Championship. So on my bucket list it is to have an Olympic medal as well.
I am also competing with myself, every year I want to do a little bit better.
Do you have any advice for new educated farriers?
Always try to keep improving and do something better than the year before. Take the good things from someone you recognize as a farrier. What would benefit you the most and don't let your ego stand in your way for learning new things that suits your ideas of shoing.
I was inspired by Rob a Dutch man 64 years old. Time spent with him, took my shoeing to the next level. 
Christie was the first farrier using the system Blacksmith starting year 2015. 
How has it changed your business?
It is an absolutely fantastic system that has changed my everyday life.
The simplicity and efficiency are impressive. I used to spend at least 20 hours a month on invoicing and now it's about minutes.
I have never been so organized as when I started with Blacksmith on a day to day basis. When I work I ask new customers to fill in their personal information in my iPad and then I invoice them before I leave the stable.
Before I started with Blackmith I was swarmed up with paperwork, forgot to invoice some horse owners and sometimes I could not read my notes.
I also use the feature and take pictures of a shoe when I make larger changes, then I have a pictures from the start and until the shoe is where me and the veterinary want it to look like, an extra quality stamp for my work to show. 
I get happy every time I start the program!