From top fashion to top horses!
March 1st, 2020 | Village: Joakim Krassman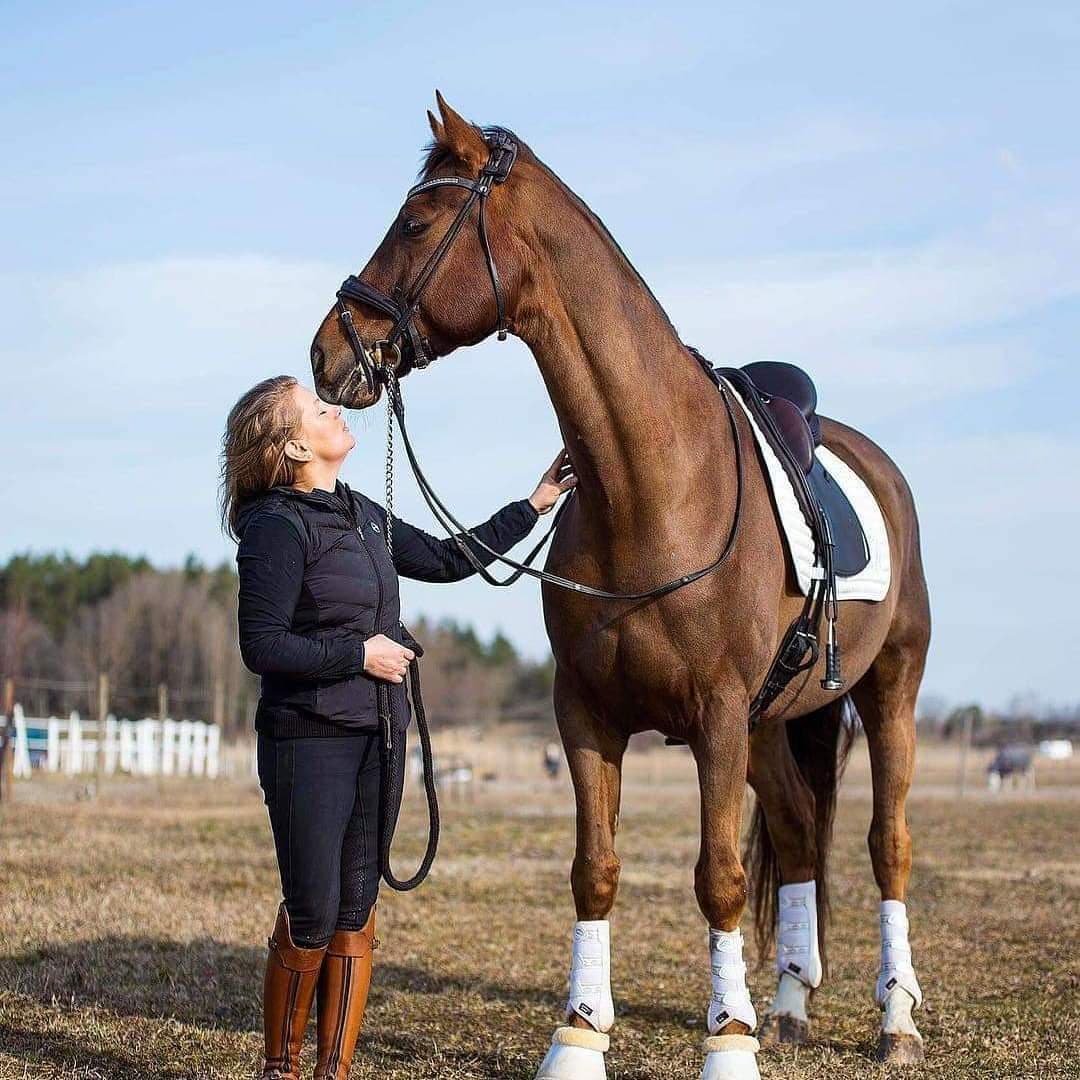 Nova Equestrian, run by Sabine Blixt, has its Stockholm base at Hippocrates Equestrian Center, conveniently close to Arlanda Airport for national and international customers.
The idea of conveying quality horses was born just over three years ago when Sabine, after several years of riding break, was going to buy herself a new horse and found a nice older teacher that she bought based on the information she received from the seller.
Unfortunately, it turned out early on that the horse had a history of injuries and treatments that were not conveyed before purchase. Then followed a time-consuming, costly and even emotionally heavy period to cancel the purchase of the horse. After four months, the horse went back to the seller.
"During this period, I became incredibly focused in detail and spent many hours discussing with lawyers, veterinarians, insurance companies and reading up on the Consumer Law," Sabine said.
When it came time to look for a new horse again, Sabine benefited from the knowledge she had learned during the previous process. She knew what questions to ask, what to look at extra, test-examined horses together with an elite rider by her side to get advice and be able to ball the horse's potential. Sabine also took private lessons from her veterinarian to gain an understanding of how to suggest X-rays, veterinary inspection protocols, etc...
She conducted thorough comparison surveys at the level of detail with Sweden's major insurance companies in order to be able to fairly assess what protection horse and owner would receive in the different situations that might arise.
 "I want the best protection at a reasonable price. The company I eventually chose now has me as a full customer and I can highly recommend them."
It all ended happily this time and Sabine became the owner of a redheaded gentleman who makes her smile (almost) daily.
With all this new knowledge in the horse industry, Just over a year ago Sabine decided to make a career change, to "saddle up" so to speak.  Sabine left her comfort zone in the fashion industry after 22 years to start nova equestrian.
With keywords such as total transparency, honesty and long-term perspective, Nova Equestrian's concept is to, in close collaboration with selected veterinarians, insurance companies, top elite riders and horse scouts in Europe, acquire, train and convey talented healthy horses with the potential for difficult class to discerning riders.
"Now I want to take advantage of my own journey to buy a horse and help others," Sabine says with a smile.
Before any purchase takes place, we read the current lineage and history, make a first check on existing X-ray plates and medical records, then the horse is sampled by one of our team riders. If the horse ticks all the boxes, we go on to a veterinary examination all inclusive with, among other things, blood tests, complete set with new X-rays on the back, neck and legs. The investigation is being filmed to make sure everything goes right.
In order to be approved according to our standards, three different veterinarians look at the documentation (one Swedish, one Dutch and one American) as well as the insurance company we use.
If everything looks good, it'll be a buy. The horse is then transported to one of our Team Riders to be refined/trained to the next level of the horse. As everyone knows, training horses is hugely individual and therefore we always put in place an individual plan for each horse that is revised over time. We expect each horse to stay with one of our riders for at least about 4 – 8 months. At present, our Team Riders are located in Sweden, Holland & USA and all ride at the elite level.
"My goal with Nova Equestrian is long-term relationships, satisfied customers and just like in the fashion industry work with the brand and quality on all levels. The biggest difference between my current job and my previous years as a supplier in the fashion industry is that shoes and clothes lie still on the warehouse shelves at night and weekends, unlike horses that keep you on your toes 365 days a year – 24 hours a day!"
"It's just as fun to see your own design on shoes and clothes worn by consumers on the town, such as seeing a perfect match between a Nova horse and satisfied rider. The icing on the cake is, of course, to see one of Nova Equestrian-trained horses with his new rider on the racetracks or just to visit those who bought a horse from us and see how good it has become."
Sabine's advice to all enthusiasts who have a willingness to start a business in the horse industry is:
Believe in your values.
Never deviate from quality before quantity.
patience! It takes time to build a brand.
Hippocrates proStable is a natural in my stable as I'm often on the move and want to feel confident that I have full control over the daily operation. I can easily change feed status, order extra services, inform staff and my intake customers easily and conveniently via the mobile app.
It makes it easier for me that the billing only takes a few minutes and I can instead spend my time finding Your next dream horse!